DIGITAL DENTISTRY HAS ARRIVED
SLASH 2 PLUS delivers a fast, high precise and reliable 3D printing experiences with ultra-intensive light engine, patented liquid cooling system and a 4.3" touch screen
METRIC
Layer Thickness
10-200μm
(25, 50, 100μm recommended)
Build Volume
192×120×200mm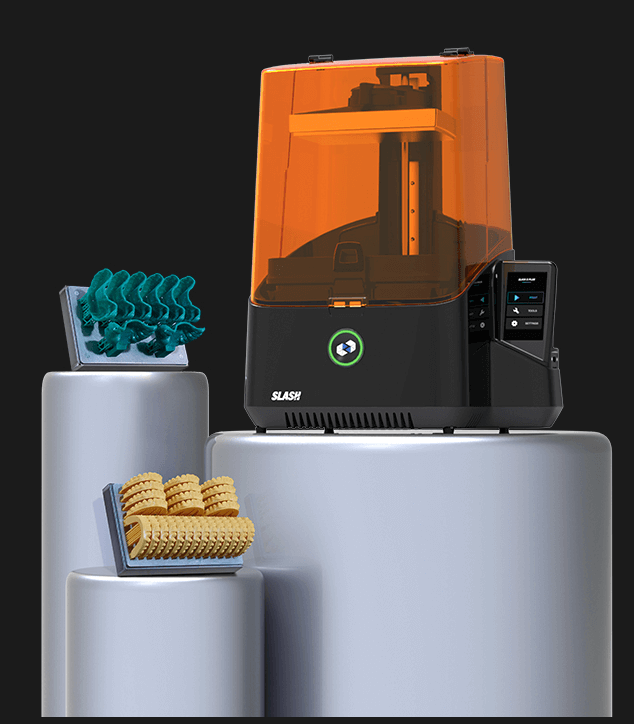 Strength
The light effect has been further enhanced with an on screen light intensity measuring 12000μW/cm². The machines can now perfectly open to the any dental resin on the market and high precise result is unbeatable.
Fast
26 full arch dental models can be finished in 53min on SLASH 2 PLUS, 6 seconds per single layer. SLASH 2 PLUS's printing speed is recorded as up to 250mm/hr in the lab.
Patented
The UNIZ patented liquid cooling system provides efficient heat dissipation to ensure that the high-strength LED light engine can keep working at intensive conditions.
Comprehensive
Precise printing of general dental models, surgical guides, bonding trays, flexible night guards, brackets, and many more…
Easy
SLASH 2 PLUS features a 4.3 inch touch screen, which allows direct easy and direct operation on the printer.
PRINTING
DESCRIPTION
SPECIFICATION
PRINTING TECHNOLOGY
LCD Stereo lithography
BUILD VOLUME
192 × 120 × 200mm 7.5" × 4.7" × 7.9"
LAYER THICKNESS
(Z RESOLUTION)
10-200μm (25, 50, 100μm recommended)
SEPARATION MECHANISM
Polymer film natural peel
SUPPORT
UNIZ smart support technology
PRINTING SPEED
Up to 250 mm/hr
HARDWARE
DIMENSION/WEIGHT
350 × 400 × 530 mm [W×D×H] 14" × 16" × 21", 15KG/33LB
OPERATING TEMPERATURE
18–28° C (64–82° F)
POWER REQUIREMENT
100-240VAC, 10A 50/60Hz
OPTICAL SYSTEM
UNIZ's Patented LED Array Light Engine
MECHANICAL
Cast Aluminum & CNC, Injection Molding
CONNECTIVITY
Flash Drive, Wifi, Ethernet
Control Mode
4.3" Touch Screen
DESKTOP
SOFTWARE
SYSTEM REQUIREMENT
Windows 10 and up (64-bit only), Mac OS X 10.7 and up (64-bit only), 16GB RAM, OpenGL 2.1, Discrete Graphics
ADVANCED FEATURES
Built-in advanced model repair
Ultra large file support (1GB+)
COMPATIBLE FORMAT
OBJ, AMF, 3MF, ZPRJ, STL