The COVID-19 pandemic (novel coronavirus) is affecting all around the world. According to worldometer, there were 471,794 confirmed coronavirus cases and 21,297 deaths by Mar-26th, 2020 in the world.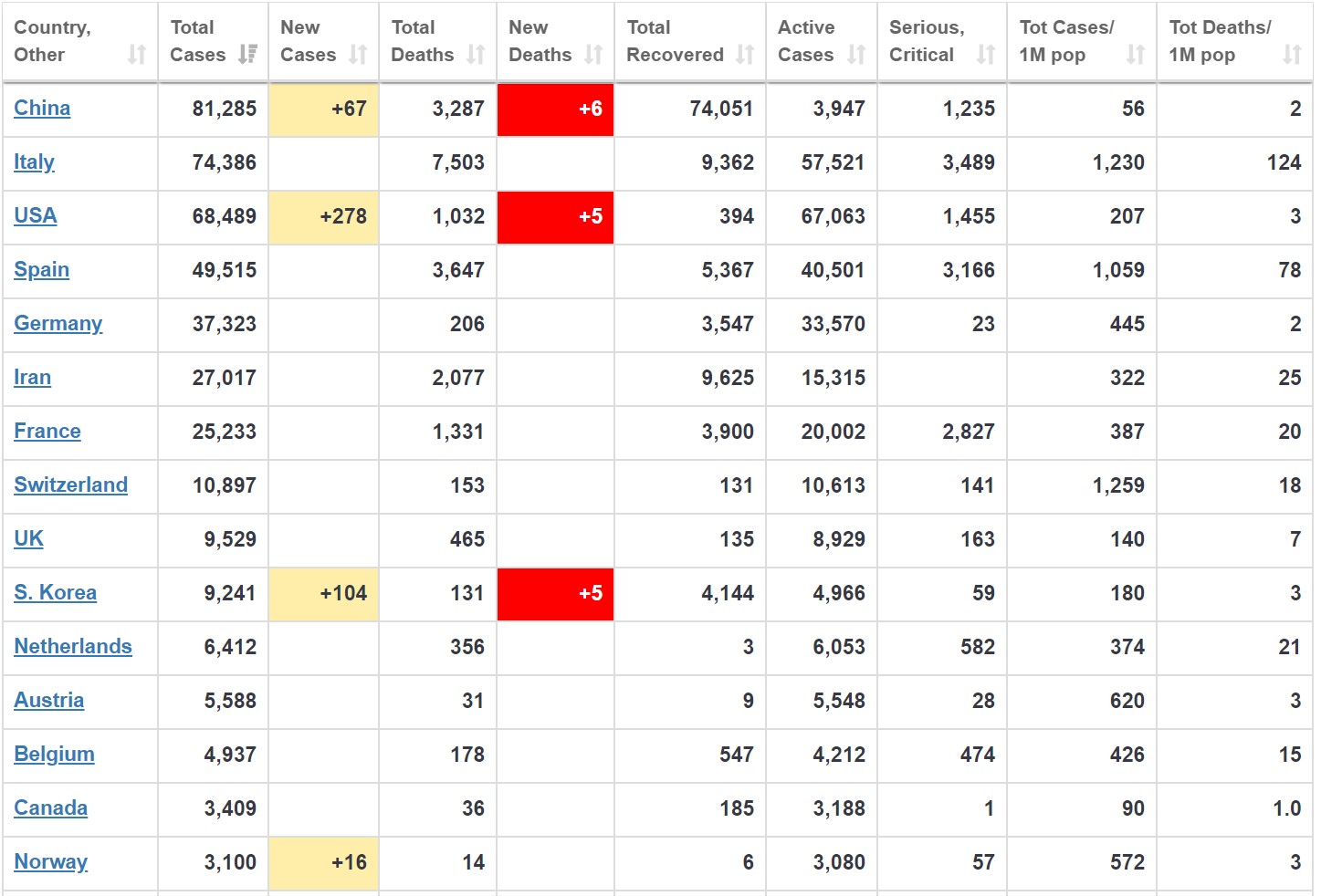 (TOP 15 Countries with cases by Mar-26th. Source: worldometer website)
During this harsh time, a lot of hospitals in many countries are short of Personal Protection Equipment (PPE) including gloves, gowns, masks, etc. UNIZ will help aid in this global medical supply shortage and is dedicated to helping the medical community resolve shortages by our additive manufacturing technologies. We had designed a "Mask Multiplier" which could turn 1 surgical mask into 4 masks to relieve mask shortage.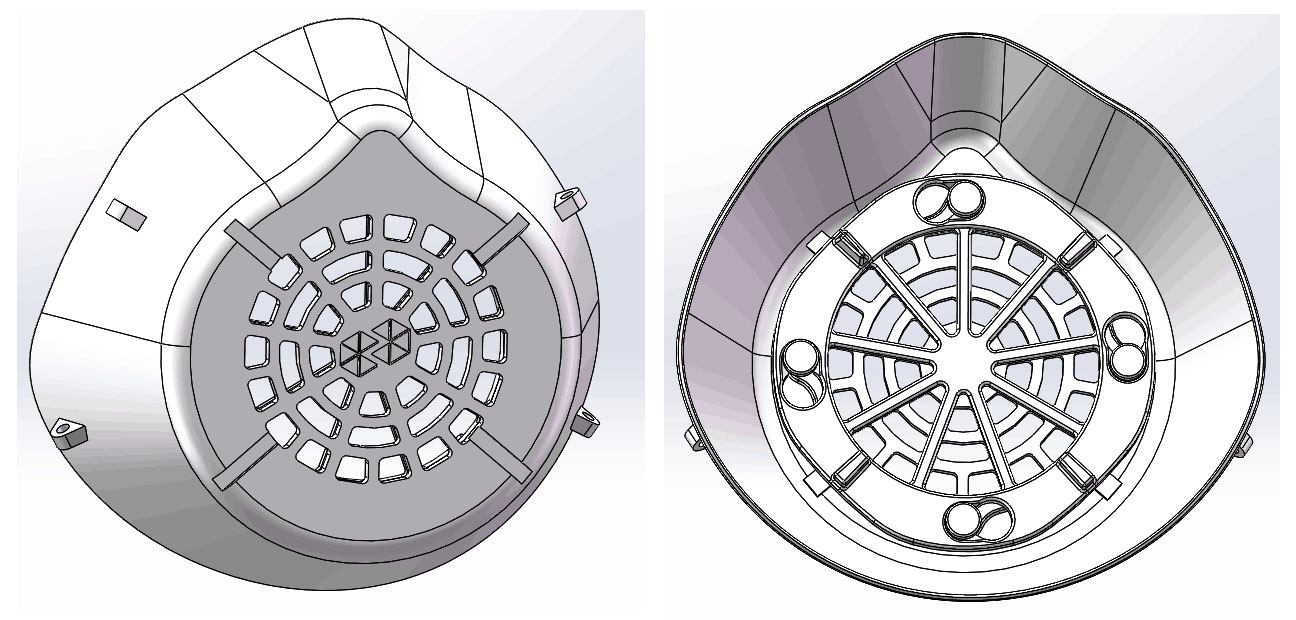 (CAD Design of UNIZ Mask Multiplier. Source: UNIZ)
As we know, if we unfold a surgical mask, the cloth dimension is about 17.5cm*17cm. Most of the cloth is used to cover, and seal mouth, nose and cheek. The actual part for filtering air is not big.
(Dimension diagram of a surgical mask. Source: UNIZ)
We could 3D print a mask to cover mouth and nose and let mask cloth to filtering air only. By this way, we can save a lot of mask cloth.
How to make it?
1. 3D Printed UNIZ Mask Multiplier
SLASH series 3D printer owns a 192*120*200mm large build volume which can print Mask Multiplier within 1 hour and 40 minutes in one-shot. The build volume of most LCD resin printers on the market are small like a smartphone screen size which cannot print this mask in one piece. If you use SLASH series printers with cUDP technology, the printing time will be reduced to 35 minutes.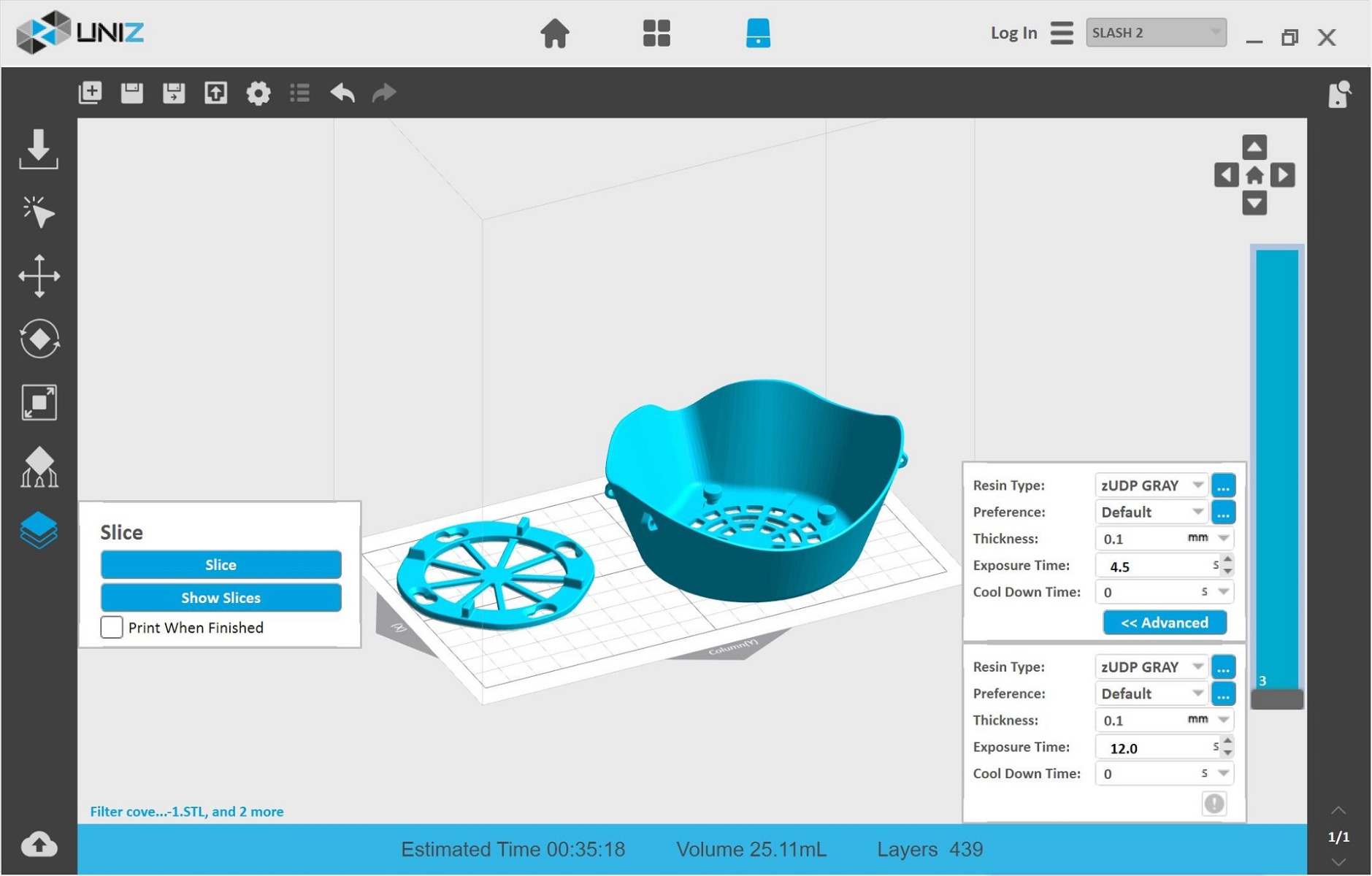 (Mask Multiplier in UNIZ Slicer Software. Source: UNIZ)
UNIZ's engineers used 3D printing thought to design this Mask Multiplier in the first beginning and made this design can be printed without supports, which reduces post processing time a lot.
2. Make filter
Cut four sides of a surgical mask by scissors. We can get a cloth with dimension 15cm*12.5cm.

(Dimension of a surgical mask after cutting off edges. Source:UNIZ)
Find a sheet of cardboard. Use a pair of compasses to draw a circle with 5.8cm diameter. Cut the circle off by scissors.

(cut a circle by compasses and scissors. Source: UNIZ)
Put this round cardboard one mask cloth and draw four same circles. Cut off 4 circles with scissors and filters are done. (Don't use a pair of compasses to draw circles on mask cloth directly to avoid its needle piercing the cloth and impacting filtering effect.)

(Cut off 4 round mask filters. Source: UNIZ)
3. Assembly
Put the round mask filter in Mask Multiplier. Ensure the blue side of the filter is facing outside. Otherwise, it will impact the filtering effect.

(Put filter into Mask Multiplier. Source: UNIZ)
We designed the "rotate & lock" function on Mask Multiplier. Just put locker into position, rotate and lock. It is quite easy. Then use elastics to tie holes on two side of Mask Multiplier and adjust elastic length basing on your ears distance.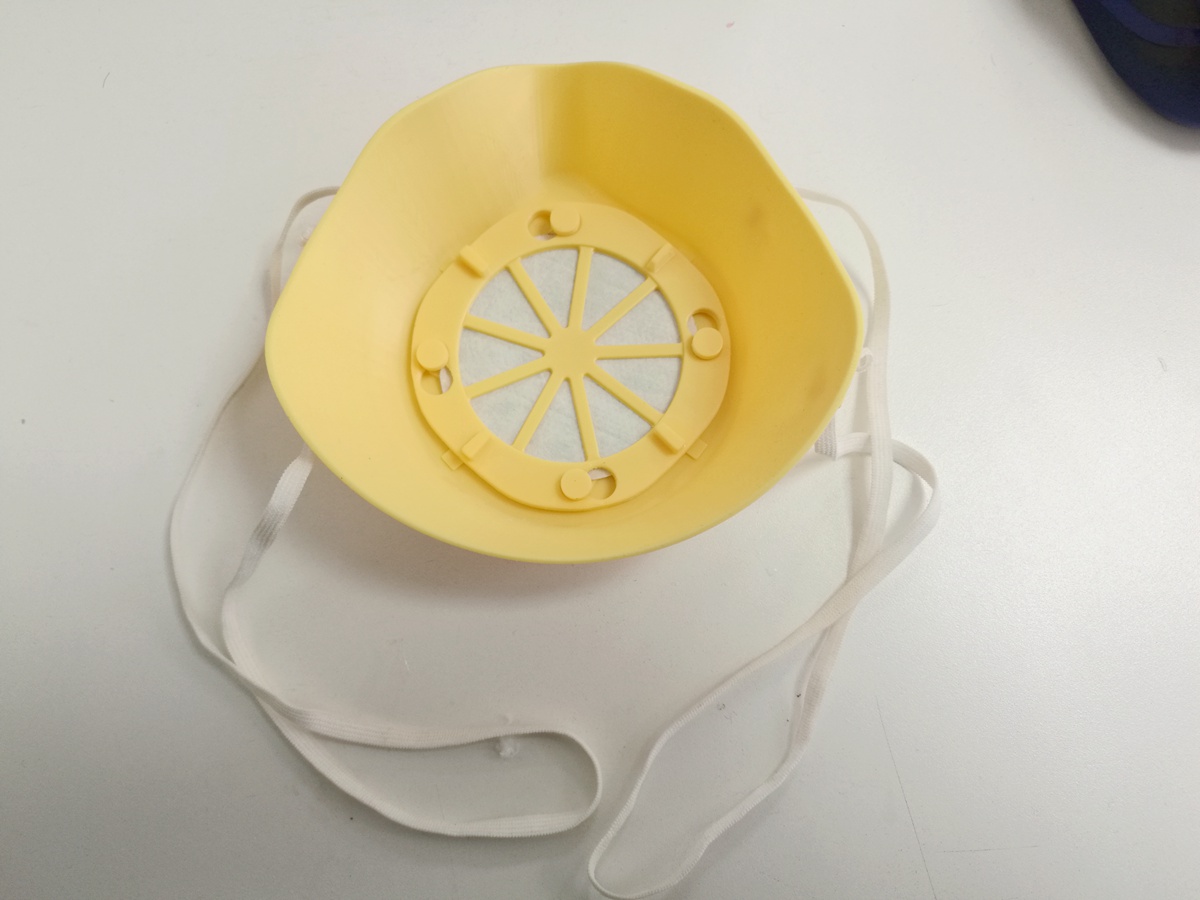 (Tie the Mask Multiplier. Source: UNIZ)
Stick water-proof medical tape at the rim of Mask Multiplier. It can enhance seal and make your face more comfortable.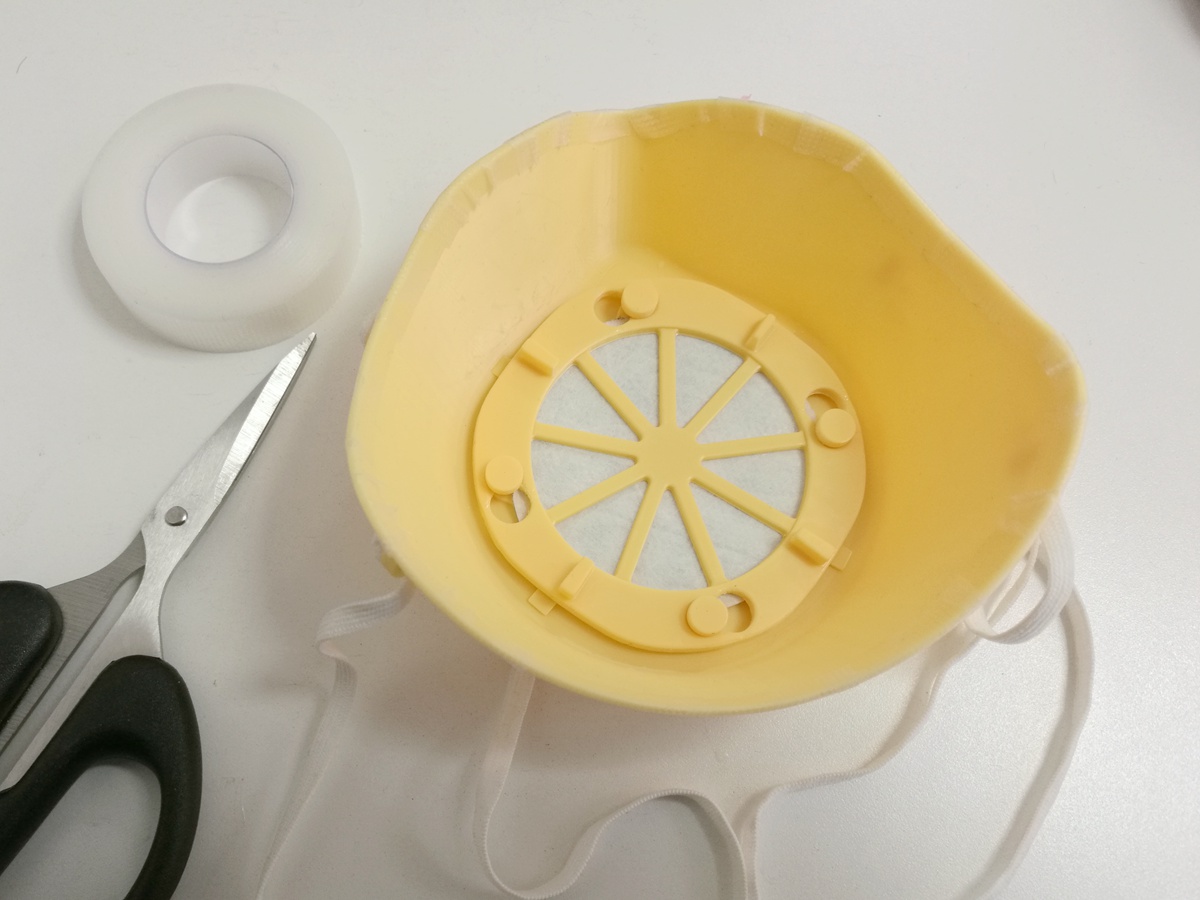 (Stick medical tape at rim of Mask Multiplier. Source: UNIZ)
4. Sterilizing Mask Multiplier
You can use 75% medical alcohol to clean it.
All done! Let's have a try!
Beside Mask Multiplier, UNIZ also developed a series of devices for prevention COVID-19 such as goggles, face shield, hand-free door opener, etc. If you need any 3D printed products intended to prevent or treat COVID-19, please email covid-19@uniz.com
Disclaimer
Please be noted that this Mask Multiplier is not a medical device and haven't got any verification or validation by organizations or hospitals yet. It is only a temporary solution to resolve the mask shortage problem. Normal citizens could use it for daily protection. By this way, we could save more surgical masks and donate them to doctors and nurses in hospitals who need them better. Social distancing and personal hygiene is key to prevent the spread of COVID-19. Please be thorough in washing your hands and avoid touching your face.