SLASH PLUS
Start your 3D printing with SLAHS PLUS, a full-featured desktop 3D printing solution with world lead SLA-LCD technology. SLASH PLUS is perfect for a wide variety of applications including high quality dentistry, arts, crafts and education. Patented duo liquid cooling system will guide you to a new level of printing speed.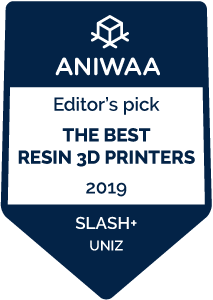 Please contact us via email at:
sales@uniz.com
or Find a Local Reseller
PRINTING
Printing Technology
LCD Stereolithography
Build Volume
192 × 120 × 200mm
7.5" × 4.7" × 7.8"
Layer Thickness (Z resolution)
10, 25, 50, 100, 150, 200, 300µm
Profile customizable
Separation Mechanism
Polymer film natural peel
Up to 100x more durable than PDMS
Support
Uniz smart support technology

Printing Speed
1,000 cc/hr, 200 mm/hr thin-walls

Resin Level Control
Automatic level control

HARDWARE
Dimension/ Weight
350 × 400 × 530mm [W×H×D]
14" × 16" × 21", 14KG/30LB
Operating Temperature
Suggested 18-28°C
Suggested 64-82°F
Power Requirement
100-240VAC, 3A 50/60Hz, 240W
Optical System
5500 (±300)Lux blue LED array
R/I matched liquid cooling
Mechanical
Carbon Fiber/Steel Reinforced
Connectivity
USB, Wifi, Ethernet
DESKTOP
SOFTWARE
System Requirement
Windows 7 and up (64-bit only), Mac OS X 10.7 and up (64-bit only), 16GB RAM, OpenGL 2.1, Discrete Graphics
Advanced Features
Multi-printer management
Built-in advanced model repair
Ultra large file support (1GB+)
Compatible Format
STL, OBJ, AMF, 3MF, UNIZ
MOBILE APPS
Compatible Systems
iPhone, iPad, Android Phone